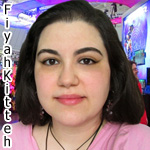 Ohai!

 
My name is kitteh and I take commissions from twitch streamers, content creators, individuals and companies in need of graphics worldwide!
Originally from Switzerland, I have always been very driven, hard-working and curious. For that reason, I taught myself many different skills which – on the other hand – turned into big passions of mine. Consequently my thirst for knowledge led me to further studies in
~ Traditional and Digital Art / Graphic Design (including courses for Anime, Cartooning, Illustration)
~ IT, Web Design, Video Editing, Game Development
Furthermore, I acquired additional experience in
~ Traditional Photography and Journalism
~ Language Studies (German, English, French, Italian)
~ Sales and Customer Service (IT, Communications)
~ Community Management and -Administration
as well as Charity Work and giving Crafting Workshops
Outside of creating art, I occasionally work for the video game industry. My tasks generally include writing video game articles for eSports organisations, online magazines or my Discord community. On top of that, I have voiced characters for videos, animations and indie games. I have also helped clients who wanted me to provided them with hand-made merchandise for sale (Plushies, Coasters, Jewelry etc.).
My patrons describe me as pleasant and easy to work with. My drive is to be accommodating, detail-oriented and wanting to understand what my client wants. As a result, I receive many happy repeat-customers, which I thoroughly enjoy.
I love being part of other's journeys; seing them grow and do well. Thus, I would be excited to help you out with your project too! Please don't hesitate to contact me!
---
kitteh, Where Do You Live?
Currently, I reside in the UK.
What's your Nationality?
Mostly Italian, but also a bit of Swiss!

When Is Your Birthday, kitteh?
That would be on Dec 9th